I believe sustainability and culture are the greatest opportunities for societies and economies.
German-born, international citizen. System thinker, creative problem-solver and award-winning renaissance woman with a "tech, business, design & science mindset".
13+ years of international experience in business strategy, technology innovation, sustainability, ESG/SDG, investing and strategic partnerships. Advisor to senior managers of internationally operating organizations. Industry advisor to investment companies. Advisory Board Member at technology startups. Founder of JUST DAMN RIGHT, a platform for sustainability-led culture and an international strategy consultancy. Founder of the independent She For Social Impact Awards. Member of the Federal German Association for Artificial Intelligence.
My career began in 2008 when my first strategy work turned Steve Jobs into a fan of my client's product, and when I turned MAN Truck & Bus into the first company that publicly acted upon smart cities, energy-efficient transportation and autonomous driving as we know it these days.
I'm an advocate for the United Nations global Sustainable Development Goals (SDGs) and on a mission to help shape an economical, environmental and societal sustainable future that benefits all.
More about me
Strategy Advisory
Sustainability Innovation & Investing
Equipped with a holistic approach to business and sustainability as well as with insights into ESG/SDG measurement, investing, markets, science, technology innovations and backed by my international network with JUST DAMN RIGHT, I operate alongside executives mainly in Europe and in Northern America.
I help them create new business value stemming from sustainability and culture; build new ecosystems to thrive with on a local and international level; help find solutions to fund new sustainability-led activities; and to get the insights and clarity needed for informed decision-making.
Read More
Professional Development
Next Generation Sustainability & Leadership
Seek new opportunities of a sustainability-driven future with my "Future Shaper Roadmap" program. In this program I share my 13+ years of experience and insights into business, innovation and sustainability to provide you with a unique foundation that will empower you to lead the next generation of responsible businesses and organizations.
Read more
Speaking Engagements
At Events & Organizations
Things I love to talk about:
Next Economic Revolution: Sustainability & Societal Impact
Sustainable Investing
Purpose = Success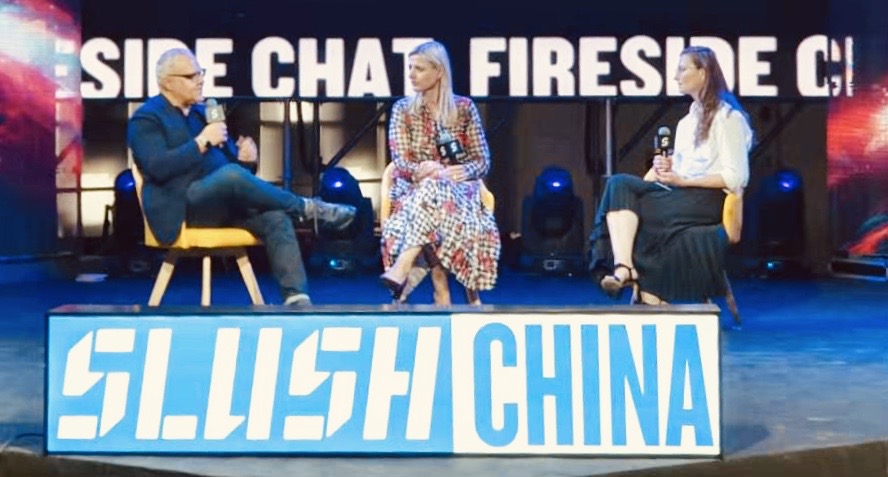 This picture above shows me on a panel discussion with Visa in 2019 at SLUSH Shanghai, one of China's largest tech events that attracted more than 15 thousand people.
You want me to speak at your event, too?
Contact Me
Metaphorically speaking: Nadine is like a secret weapon.

Jascha Stein

Founder & CEO, Omnibot
I finally feel empowered to take CSR to another, real strategic level in my company.

Senior CSR Manager

Consumer Goods Company
Nadine is clearly ahead of her time and an inspiring leader.

Stefan Groschupf

Founder and Board Member of Datameer, Founder and CEO of Automationhero
Nadine taught me a truly new perspective about the value that I can create through my work.

Senior Manager Sustainable Finance
What amazes me the most is Nadine's ever humility and gentleness that always makes the team feel comfortable, inspired and motivated.

Pebbles Lin

Learning Design Director at NUNC
In only three months we have achieved with Nadine the things that we have been trying to achieve with several consultancies for the past eight years.

CEO

IT Consulting Company
Independent She For Social Impact Awards
The independent She For Social Impact Awards are an international platform that I founded in order to honor impact-led women globally for their advanced solutions to achieving the SDGs. Furthermore, the aim is to support and to increase women's contribution for a sustainable future, since gender parity and equality is at the core to achieving the SDGs.
The winners announcement 2020 has been streamed online on June 3 while still in lockdown mode due to the coronavirus outbreak. Renowned impact leader Alix Peterson Zwane gave the opening remarks and shared her perspectives on social innovations and investing in a sustainable future. She serves as CEO of the Global Innovation Fund which invests in scalable social innovations in developing countries, before which she served as the first employee and Executive Director at Evidence Action, a non-profit that develops service delivery models to scale evidence-based programs. Prior to that, she advocated for evidence-based philanthropy at the Bill & Melinda Gates Foundation and Google.org.
Read more